Woo-Hoo! Yay! It's that time of day…Never fear, Miss Jen is here and we're going out to play! (well I'm supposed to be pottying but all good things in due time)…I'm sorry, I've gotten ahead of myself but I do that alot!) so, back to the introductions…My name is Sophia but my people call me a lot of different names, like Soph, Fia, FiFi, Noodle McDoodle, Puppers, Monkey (because my Mommy says I act like one but I don't even know what a monkey is so I can't really argue with her on that). I don't really care what anyone calls me as long as it's not late for dinner. I'm 7 yrs old and I'm a Black Lab/Beagle Mix. My Mommy is Cara and my Daddy is Chaz and we live on top of a big hill in a place called Cockeysville.
When I was just a little puppy I had different people and lived in a different place. The girl person really loved me but the man person was very mean & treated me so badly.  Even though I heard her say she didn't want me to go, the man said I had to and one day Cara & Chaz came to where I lived and they were sooo nice to me. I was kept in this horrible metal cage thing that I wouldn't have minded but it was way too small for me…I couldn't even turn around in it. First I saw Cara coming toward me and she knelt down nice & slow (I think she could tell I was scared) and she said "oh, look at her, she's so small & too cute". She opened the door & reached inside to pick me up.  I really wanted to meet them but because of that mean man I was a little hesitant to let another man grab me so as soon as Chaz picked me up I wriggled free. I wasn't trying to be unsocial but I didn't know them and was a little scared. They really seemed nice but in my 2 short months being alive I had been fooled before so I was going to play this my way. Ok, maybe my way wasn't a great idea because the next thing I knew I was back in that darn cage thing, but, wait a minute, this time the cage was moving…hold on people, no one told me what was happening. Chaz was carrying me outside and Cara was right behind him carrying the couple of toys that the girl person had gotten me in the short time I  was there and they put me in the back of one of those things called a car that moves REALLY fast, waaay faster than my little legs anyway, and we were on our way to somewhere new (glad they knew where they were going because I was completely lost)
Valentine's Day is quickly approaching and love is definitely in the air, but so is potential danger for your pets. Jen's Gentle Pet Sitters, LLC offers pet owners a few hints to keep pets safe this Valentine's Day.
Two of the most common Valentine's Day gifts, chocolate and flowers, can be extremely hazardous to pets.
In 2008, The American Society for the Protection Against Cruelty to Animals (ASPCA) saw a 74 percent increase in cases of chocolate ingestion in the week before Valentine's Day.
Animals are particularly sensitive to theobromine and caffeine, two ingredients in chocolate. The darker the chocolate, the more dangerous it is to your pets. Be sure to paw-proof all Valentine's chocolate.
Many pet owners don't realize that all members of the Lily family are extremely poisonous to cats. This is not a clever ploy by florists to sell more roses. Be sure any Valentine's bouquets are lily-less.
We have our 2014 Client Packets available now for downloading. You will need this when using our pet sitting services. Thank you! 2014 Client Packet
Happy Halloween!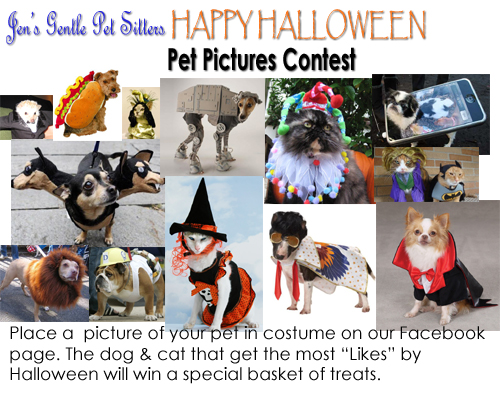 It's Jen's Gentle Pet Sitters Halloween Contest. Dress you favorite pet in a cute, scary, or remarkable costume and post it on our Facebook page https://www.facebook.com/JensGentle. Who ever gets the most 'Likes' will win a Pet Prize Basket with goodies & treats. One basket for Dogs, and one for Cats. May the best paws win!
9 AM – 2 PM Odenton Volunteer Fire House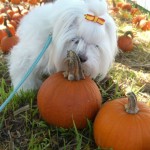 Jen's Gentle pet Sitters will be participating again this year in the Odenton Day celebrations. Please come out and see us, lot's of great things to see and do on October 5th 2013. Come on out for a day of free Fun, Food, and Learning with Odenton Day 2013. It runs from 9 AM to 2 PM at the Odenton Volunteer Fire House on 1425 Annapolis Road in Odenton. Scheduled Events include the following:
Odenton Volunteer Fire Company Open House
Free hot dogs, chips, and drinks
Music, dancing, and martial arts demonstrations
Free shuttle bus to Odenton Heritage Society
Bus tour of historic sites
Displays by West County organizations and businesses
Fun and activities for kids
Spring Flowers can be dangerous to pets?
Spring has finally arrived, but some of those beautiful flowers in bloom could pose serious health risks if ingested by curious pets. Log-in to the Members' area and visit the Pet Health Resources section of the template gallery to download a list of spring health hazards. This Pet Safety Tip download can also be customized with your company information to share as a client leave behind.
Know your plants
There are many popular plants that are toxic to dogs. Plants like aloe, ivy, azalea/rhododendron, begonia, daffodils, lilies of the valley, tomatoes and gladiolas can all be harmful if ingested. The ASPCA has a list of plants that are toxic for dogs. And read our article on Toxic foods for dogs: fruits, vegetables and nuts to know what vegetables and fruits to keep your dog away from.
While it's not practical to remove every plant in your yard, you should remove the most dangerous ones, especially if you have a puppy. You also will need to train puppies to stay away from certain plants through positive re-enforcement training and by deterring them by sprinkling plants with cayenne pepper or using a commercial non-toxic repellent.
Source:
www.petsit.com
www.dogheirs.com
Lab Rescue of the Labrador Retriever Club, Potomac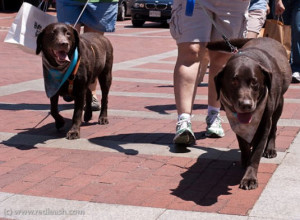 Lab Rescue is seeking your support for our 5th Annual Lab Rescue Dog Walk in Annapolis, Maryland on Saturday, June 1, 2013.  The walk, which draws hundreds of volunteers, adopters, and supporters from throughout the Washington metropolitan area, is Lab Rescue's biggest annual fund raiser.  Our goal this year is to raise $75,000 in pledges to provide our rescued Labs with essential and emergency veterinary care.
Lab Rescue is a volunteer-driven, non-profit organization dedicated to rescuing, vetting, fostering and adopting out abandoned and neglected Labrador Retrievers.  Founded in 2001, we have served the Washington metropolitan area for more than 20 years.  We take in strays and owner give-ups from shelters, and we try to keep Labs out of shelters by providing owners the ability to place their dogs directly in a new home approved by Lab Rescue.  Sometimes we heal the dog's spirit, but we also treat broken bones, deadly diseases such as Heartworm, Lyme and Erlichia, cancerous lumps, and parasitic conditions.  Our veterinarian and kennel costs continue to rise, and constitute 97% of our expenditures.  Our success in continuing our lifesaving work depends entirely on the generous donations we receive and the unwavering commitment of our volunteers.  In 2012, we saved over 1,000 Labrador Retrievers and found them what we happily refer to as "forever homes."
Lab Rescue is seeking donations of incentive prizes, such as gift certificates, to award to the walkers who raise the most in pledges.  Would you kindly consider donating a gift certificate or item to be used as an incentive prize for the walk?  Last year's Lab Rescue Dog Walk drew more than 250 participants, raised $60,000 in pledges, and enabled us to rescue 100 more Labs in 2012 than we were able to rescue in 2011. With your support, we can continue our lifesaving work.  Lab Rescue is a non-profit 501(c) (3) organization and your monetary or in-kind contribution is tax deductible to the extent allowed by law.  Our federal ID number is 52-1880024.
For additional information, contact Lab Rescue(240) 299-2952 or by email at lab_rescue@verizon.net. Thank you in advance for your support.
Article Submitted by: Carol Lagundo, Vice President, Lab Rescue of the LRCP

Love Pets?
We are seeking additional help. The following jobs are available: Overnight/24 Hour Care Pet Sitter, Pet Sitter, and Floater pet sitter. If interested visit our Employment page and submit a preliminary application.
7 Large Bags Donated to Sarah's House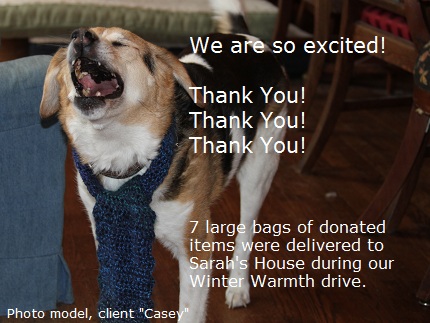 Sarahs House received 7 large bags of winter goods from clients and friends of Jen's Gentle Pet Sitters.  Sarahs House provides safe shelter, daily meals, and personal, as well as professional, casework support for those in need. As a supportive housing program for homeless families, Sarah's House is much more than just a safe place to sleep. Our goal is to effect positive change in the families that are served.
I was very touched by all of the kind donations and want to send a special thanks to everyone who supported this drive!" – Jen, Owner of Jen's Gentle Pet Sitters