Summer is definitely in full swing here as evidenced by hot temperatures and high humidity levels. We humans take precautions when dealing with the high temps and humidity like putting on sunscreen. staying hydrated and avoiding the midday sun and we need to do the same for our pets. It is our responsibility to protect our furry friends from the hazards of summer by keeping them cool , comfortable and safe. Like us humans, our pets are susceptible to dehydration and sunburn.
If you are miserable in the heat and humidity most likely your pet is  too. If it's too hot for you than most likely it's the same for your furry friend. If the pavement or sand is too hot for you to walk comfortably barefoot on then it's is too hot for your pet because it can burn their pads.
Hydration is important to both humans and animals alike because like us they can get overheated and dehydrated so please make sure that they have access to fresh clean water. If they spend a lot of time outside, frequently give them small amounts of water.
Please don't leave any pet or animal unattended during these hot summer days because a temperature in a closed car can rise 20°  in just 10 minutes and in an hour, 40°. On a 70 degree day, it can reach 110° inside the vehicle. It is best to leave your pet at home but if you have to run errands with your pet in a vehicle take someone with you so they can keep the air conditioning on so the animal doesn't overheat.
If an animal gets overheated they can suffer from Hyperthermia  or eat stroke which effects their ability to cool down most likely cause being trapped in an enclosed environment without ventilation like a car or have been outside too long without shade and water. Dog with restricted airways such as brachycephalic (flat faced)  breeds  of pug, boxer and bulldog and dogs that wear muzzles are more likely to develop these conditions than others.
Some symptoms of Heat Stroke and Hypothermia include:
Excessive or Rapid Panting
Increased Heart & Respiratory Rate
Excessive drooling
Labored Breathing
Lethargy
Some of the more severe symptoms include:
Seizures
Bloody Diarrhea
Vomiting
Coma
Shock
Unconsciousness
Temperature of 104°
Please take your pet immediately the vet if they show any of the above symptoms.
Stay tuned for more summer tips in my next blog.
Keep Cool Out There !
Loving what we do at Jen's Gentle Petsitters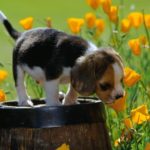 Springtime is here, people and pets are apt to spend more time outdoors among blooming flowers ,warmer temperatures and longer days . During spring, Easter is celebrated with lilies, chocolates and plastic colored  grass which are all hazardous to our fur babies.  Lilies are fatal to cats if ingested.  Chocolates are toxic to both cats and dogs. The plastic grass used in Easter baskets if ingested can obstruct the digestive tract which can cause  severe vomiting and dehydration.  Popular springtime plants like Rhododendrons and Azaleas are highly toxic to pets and can have fatal consequences.  It doesn't matter what the season is  so please don't leave antifreeze around because it is toxic to animals.
With the warmer temperatures,  more people tend to travel with their fur babies in tow so please make sure When traveling with your furry companions, make sure they are secured in a crate or wearing a seatbelt harness  specifically designed for them. It is also a good time, to make sure their vaccines are up to date, heartworm is prevented  and flea and tick prevention is still being done.
During spring, our feathered friends tend to be more active and become prey for hunting cats. Tips for keeping birds alive include fastening a bell to the cat's collar, making  sure to avoid main feeding times like sunset, sunrise or after bad weather because that is when the birds seem to be most active . Feed your cat before letting it out though it is highly recommended to keep your cat indoors.
Just like us humans, they can get allergies from dust, plants and pollens. Allergic reactions to said allergens can include  itching, minor sniffling and sneezing and it is best to get the animal to a vet ASAP.. Cats and dogs can also suffer from allergic reactions to insect bites and stings which can cause them to go into anaphylactic shock.
Enjoy the nice weather and keep yourself and your fur babies Happy loved and safe.  Loving what As th we do at Jen's Gentle Pet Sitters.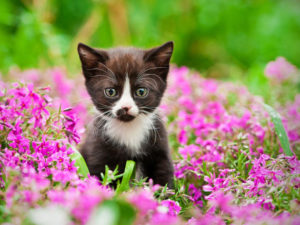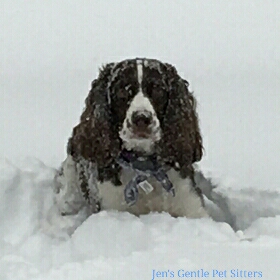 I enjoy a nice snow fall, watching the snow as it gently falls from the sky but I don't like the cold. Going outside, we dress up in hats, gloves, scarves, boots and a heavy coat just to stay warm. Our furry friends also like to stay warm when it's cold out. They like to cuddle with their human, under a blanket, in a soft bed or catching some rays of sun. Just like us humans, some can adapt to and / or are more tolerant of the cold like Siberian Huskies and Alaskan Malamutes because their coats are thicker but it' s still not a good idea to leave them outside for too long, especially during the winter and summer months.
When walking dogs, wipe their paws to get rid of residue and debris from leaked radiator fluid and deicers which can cause damage to their very sensitive paws. Sometimes ice can get between the toes of a dog and it might help to trim the hair between their toes. If you have to deice, it's best for all if you use a pet friendly deicer. On smaller dogs or short haired breeds like the Dachshund and Chihuahua, it's ok to put them in a sweater to keep them warm.
Check your car engine, blow your horn or make a loud noise in case a feral or stray cat finds its way under your hood to keep warm. It's never a good idea to leave a pet in a car. The key is to know your pets limits because like us humans they too can be sensitive to temperature changes. It's best to keep your pet indoors during the cold winters but please make sure your house is pet friendly and safe. Keep Warm.
We love what we do at Jen's Gentle Pet Sitters.