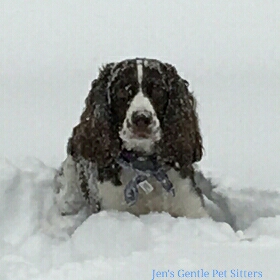 I enjoy a nice snow fall, watching the snow as it gently falls from the sky but I don't like the cold. Going outside, we dress up in hats, gloves, scarves, boots and a heavy coat just to stay warm. Our furry friends also like to stay warm when it's cold out. They like to cuddle with their human, under a blanket, in a soft bed or catching some rays of sun. Just like us humans, some can adapt to and / or are more tolerant of the cold like Siberian Huskies and Alaskan Malamutes because their coats are thicker but it' s still not a good idea to leave them outside for too long, especially during the winter and summer months.
When walking dogs, wipe their paws to get rid of residue and debris from leaked radiator fluid and deicers which can cause damage to their very sensitive paws. Sometimes ice can get between the toes of a dog and it might help to trim the hair between their toes. If you have to deice, it's best for all if you use a pet friendly deicer. On smaller dogs or short haired breeds like the Dachshund and Chihuahua, it's ok to put them in a sweater to keep them warm.
Check your car engine, blow your horn or make a loud noise in case a feral or stray cat finds its way under your hood to keep warm. It's never a good idea to leave a pet in a car. The key is to know your pets limits because like us humans they too can be sensitive to temperature changes. It's best to keep your pet indoors during the cold winters but please make sure your house is pet friendly and safe. Keep Warm.
We love what we do at Jen's Gentle Pet Sitters.