Lab Rescue of the Labrador Retriever Club, Potomac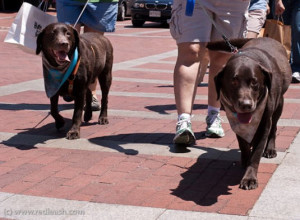 Lab Rescue is seeking your support for our 5th Annual Lab Rescue Dog Walk in Annapolis, Maryland on Saturday, June 1, 2013.  The walk, which draws hundreds of volunteers, adopters, and supporters from throughout the Washington metropolitan area, is Lab Rescue's biggest annual fund raiser.  Our goal this year is to raise $75,000 in pledges to provide our rescued Labs with essential and emergency veterinary care.
Lab Rescue is a volunteer-driven, non-profit organization dedicated to rescuing, vetting, fostering and adopting out abandoned and neglected Labrador Retrievers.  Founded in 2001, we have served the Washington metropolitan area for more than 20 years.  We take in strays and owner give-ups from shelters, and we try to keep Labs out of shelters by providing owners the ability to place their dogs directly in a new home approved by Lab Rescue.  Sometimes we heal the dog's spirit, but we also treat broken bones, deadly diseases such as Heartworm, Lyme and Erlichia, cancerous lumps, and parasitic conditions.  Our veterinarian and kennel costs continue to rise, and constitute 97% of our expenditures.  Our success in continuing our lifesaving work depends entirely on the generous donations we receive and the unwavering commitment of our volunteers.  In 2012, we saved over 1,000 Labrador Retrievers and found them what we happily refer to as "forever homes."
Lab Rescue is seeking donations of incentive prizes, such as gift certificates, to award to the walkers who raise the most in pledges.  Would you kindly consider donating a gift certificate or item to be used as an incentive prize for the walk?  Last year's Lab Rescue Dog Walk drew more than 250 participants, raised $60,000 in pledges, and enabled us to rescue 100 more Labs in 2012 than we were able to rescue in 2011. With your support, we can continue our lifesaving work.  Lab Rescue is a non-profit 501(c) (3) organization and your monetary or in-kind contribution is tax deductible to the extent allowed by law.  Our federal ID number is 52-1880024.
For additional information, contact Lab Rescue(240) 299-2952 or by email at lab_rescue@verizon.net. Thank you in advance for your support.
Article Submitted by: Carol Lagundo, Vice President, Lab Rescue of the LRCP